The chief economist at the International Energy Agency says peak oil is nigh and that we, as a society, need to start seriously planning for a world without it. Dr. Fatih Birol, in an interview with the U.K. Independent, said total production of oil is likely to peak within 10 years and that most of the biggest oil fields in the world have already hit peak and are declining rapidly. His comment that the peak will come in 10 years is far earlier than most governments are planning on, if they're planning at all. Some believe we've already hit peak, at least when we talk of "conventional oil" production.
"One day we will run out of oil and we have to leave oil before oil leaves us, and we have to prepare ourselves for that day," Dr. Birol said. "The earlier we start, the better, because all of our economic and social systems are based on oil, so to change from that will take a lot of time and a lot of money and we should take this issue very seriously."
 He went on to say that with peak comes higher and higher prices and increased concentration of power in the handful of countries in the Middle East that have a 40-per-cent share of the market and likely more in years to come. The timing of that interview couldn't have been better for Nissan, which unveiled its new LEAF electric car over the weekend.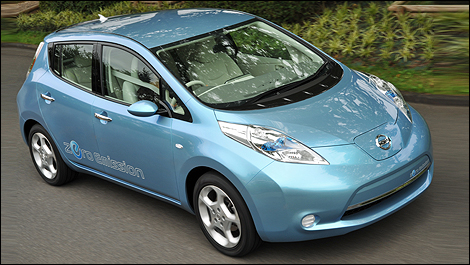 Nissan plans to start selling the LEAF in late 2010 and hopes to go into mass production in 2012. This is a slick-looking car, one that promises to be affordably priced. And unlike other offerings, the battery will be leased, putting all the risk in the hands of Nissan. As I said before, there's been too much focus on GM's Chevy Volt, as if it's the only electric game in town. Fact is, there are many plug-in vehicles — hybrids and all-electrics — being launched between 2010 and 2012. It's a good sign, because these are the kinds of products we need to transition away from oil, as Dr. Birol so widely advises. We also need several models to enter the market to encourage more investment in the infrastructure needed to support these cars.
Dr. Birol's  warning and Nissan's unveiling of the LEAF (among other EV announcements of late) add even more weight to Ontario's proposed subsidy for purchasers of plug-in hybrid and all-electric vehicles. Continue reading Peak oil , Nissan's LEAF and why Ontario is doing the right thing →